On September 3, 2019, OKAM, the inwestor of INSPIRE, signed a contract with the General Contractor, Zakład Budowlano-Montażowy Grimbud Ltd. The contract provides for construction in the first stage two residential buildings.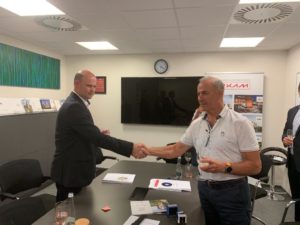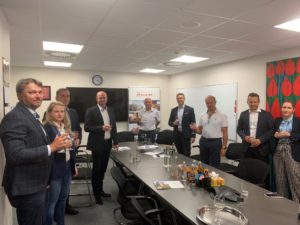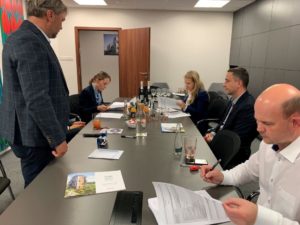 In the eight-story buildings at 41 Sikorskiego Street, 112 flats will be built in the first stage, varying in size from 29 to 125 m2, as part of which one-room studios, as well as two-, three-, four- and five-room apartments were designed. On the top floor there will be spacious penthouses. All apartments, depending on their size and location, have access to a balcony, loggia, garden or terrace, which area reaches up to 120 m2. The height of the premises is up to 3 meters. A two-level car park will be built in the underground. Storage cells will be available for interested residents.
Residents will have an elegant reception at their disposal. In your free time, you will be able to use the resident's zone with a fitness room and gym, sauna and entertainment area with table football and billiards. A special, closed room with the function of a bicycle and trolley will be created for active and for families.
On 4,000 m2 of plot there will be greenery surrounding residential buildings. The central part is a unique gorge, the development of which will encourage activity or a peaceful rest in the bosom of nature. Beautifully lit, with integrated benches, it will be an ideal place for meetings and games, also for the youngest residents.
– The INSPIRE project is being developed as part of the New Okam Quality Policy introduced in autumn 2018. This means that we use above-standard facilities for our residents, e.g. air purifiers in every apartment or electric vehicles available to the community. There will be parcel machines, bicycle rental and bicycle service. We also care about our environment: solar energy obtained by solar panels will illuminate the common areas, and we will use rainwater for watering the greenery. Our projects are very popular among clients: great locations and quality, incl. in the use of high-quality materials they defend themselves. We are guided by the philosophy: we are building a place to live, not just buildings. – says Arie Koren, CEO of OKAM Ltd.
– We are an experienced construction company that has been on the market for twenty-five years. Throughout this period we have successfully completed over 200 projects. Everyone was special to us. We also treat INSPIRE exceptionally. We use the latest technologies at all stages of our activity and focus on proven, high-quality building materials. Many Investors have trusted us and our projects meet with positive feedback from users. We are convinced that this will be the case here: OKAM customers, future residents will receive a high-class product that will meet all expectations and at the same time will be a showcase of our company for years – says Ryszard Maciak, President of the Management Board of Grimbud Ltd.
The planned commencement date of works under stage I is the turn of 2019 and 2020, completion is expected for the fourth quarter of 2021.