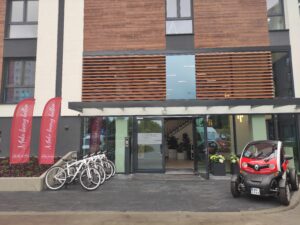 On June 8, we officially celebrated the completion of the first two buildings A, B as part of the I phase of INSPIRE. Among the invited guests there were current and future residents and all people involved in our project.
During the event, guests could see the representative reception and the Resident Zone and also try the first ride on a bicycle or electric vehicle 'Twizy'. In the intimate courtyard we could talk about the new investment accompanied by a good refreshments.
The culmination of the evening was a concert of 'Miss Ann', our Member of the Board – Anna Watkowska.
It was a magical time for us. Thank you to all the guests for coming and Miss Ann for a great concert!